Bio-based Composites: Are they a viable solution for the marine environment? Thursday 19th January 2023, 10.00-14.30 CET, Oostende, Belgium and now available to attend online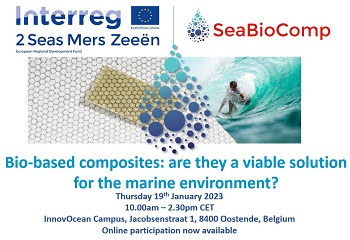 The SeaBioComp Interreg Project invites businesses, stakeholders, research organisations and interested parties to attend the final project conference to discuss, 'Bio-based composites: are they a solution for the marine sector?' taking place Thursday 19th January 2023, 10.00-14.30 CET. Delegates are now also able to attend the event online.
This free conference will present the results of the SeaBioComp project which has developed a number of new bio-based thermoplastic composite materials for use in the marine environment using 3D printing, compression moulding and resin-infusion moulding.

In addition the conference will hear from speakers in the bio-based composite value chain on the challenges they face using bio-composites.

This highly topical event, will include a networking lunch where delegates can meet with all the partners of the SeaBioComp project as well as all the conference delegates.

For more details including the draft agenda, travel information and to register your place at this free event please follow the link. https://www.vliz.be/en/event/2023-seabiocomp-final-conference

A wealth of technical information regarding the SeaBioComp materials, the manufacturing processes and information on the the adaptations required for the 3D printing of biocomposites as well as many more deliverables from the project are available as downloads from the website. http://www.seabiocomp.eu/downloads/

SeaBioComp is a 42 month project financed by the European Union's Interreg 2 Seas Mers ZeeŽn fund. The project has 11 European partners: Centexbel, CETI (European Centre for Innovative Textiles), VLIZ (Flanders Marine Institute), ARMINES (Association for research and development of industrial processing methods), Poly Products, University of Plymouth, University of Portsmouth, Marine South East Ltd, EuraMaterials, IFREMER and REWIN. In addition, the project has 9 Observer Partners.

Send this story to a colleague
Subscribe to our newsletter

Posted 2022-12-05 15:30:18
« Back to news