SeaBioComp Newsletter No3 February 2021

Welcome to the SeaBioComp Project Newsletter No 3 February 2021
SeaBioComp is a collaborative project which is developing novel bio-based thermoplastic composite materials to replace conventional oil-based products in the industry.
The long term gain for the marine environment is very much at the forefront of this project as well as the development of viable new bio-composite materials, 3D printing of bio-composite materials and the development of analytical protocols to evaluate the long-term durability and reduced ecological impact on the marine environment.

For more information please visit:
http://seabiocomp.eu

Posted 2020-12-14 14:07:19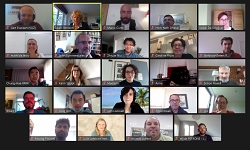 SeaBiocomp General Assembly and Advisory Board meetings held online
At the end of October 2020, the SeaBioComp partners held a very successful General Assembly meeting which reported on all aspects of the project activities, results and deliverables.
The project partners include experts in biopolymer formulation and textiles (Centexbel and CETI), composite formation (Armines, University of Plymouth and Poly Products) as well as testing experts (University of Portsmouth, VLIZ and Ifremer). The remaining partners include clusters (EuraMaterials and Marine South East) and public authorities (REWIN).

Representatives from all 12 partners in the project attended the online meeting and contributed to the informative questions and discussions prompted by presentations of the results of the various work packages.

A number of papers and results from the project are available to download via the website at:
http://www.seabiocomp.eu/downloads/

The General Assembly meeting was followed by a lively and interactive session in the afternoon with the SeaBioComp Advisory Board which is made up of a further 10 observer partners who include cluster organisations, businesses and public authorities.

More information about the Project Partners and Observer Partners can be found at:

http://www.seabiocomp.eu/partners/
Posted 2020-12-14 14:02:26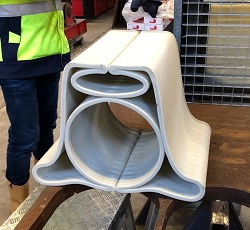 Call for ideas for demonstrators of biobased composites for the marine environment
The SeaBioComp project aims to build demonstrator products for marine applications from bio-based, thermoplastic composite material.
The project partners are encouraging companies to share ideas for possible demonstrator products. Objects up to 2 meters in diameter can be printed with 3D technology.

The SeaBioComp project aims to develop demonstrator products from bio-based composites that can potentially replace the traditional fiber-reinforced composites used in the marine and maritime industry.

The bio-based composite must have at least the same mechanical properties, achieve a suitable service life (depending on the application) and reduce both CO2 emissions and ecotoxicity by 30 % and 50 % respectively. Because thermoplastic composites are used, the recycling process will also be studied in more detail and used to finalise the protocol.

The demonstrator products and analytical protocols that the project will deliver will hopefully convince the marine and maritime industries that bio-based composites can offer a realistic and feasible alternative to less sustainable materials.

The consortium is therefore launching a call to the marine industry to propose possible applications of bio-based composites in an offshore environment. The consortium will then determine which proposed demonstrator product can be built.

Possible demonstrator items could include marine products such as fishing gear, boats, floating structures (e.g. buoys, floaters) and infrastructure components (e.g. ships, anchors) from different areas of the blue economy (aquaculture, offshore energy, shipping, coastal defense, tourism).

Do you have an idea for a possible application? Please contact us at ids@centexbel.be with your proposal for a demonstrator product.

If you are interested to be kept up to date with the project and its outcomes please sign up to the Interest Group at http://www.seabiocomp.eu/interest_group/

Posted 2020-12-14 13:44:42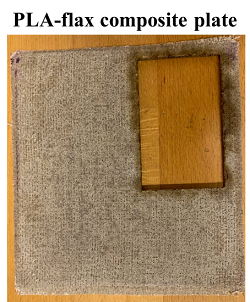 Developing high quality biocomposite materials with reduced environmental impacts
Work Package 1 of the SeaBioComp project is looking to develop high quality biocomposite demonstrators which will have a significantly reduced environmental impact compared to traditional oil-based composites.
Thermoplastic polymers are interesting matrix materials due to their high-strength-to-weight ratio, processability, low production costs and high corrosion resistance properties.

In general, oil-based thermoplastics are not biodegradable and the recycling at the end of their lifetime is still a difficult and expensive task, even if it is theoretically feasible.

Hence, some bio-thermoplastics which are biodegradable, are being widely investigated as ecofriendly alternatives to conventional oil-based thermoplastics.

One of the main drawbacks of biobased thermoplastics such as PLA (Poly Lactic Acid) is their low mechanical properties, in particular low toughness. The SeaBioComp project aims to develop 100% biodegradable (or recyclable) thermoplastic composites while addressing the issue of low mechanical performance such as toughness of common biobased polymers.

A great deal of work between partners and material suppliers has gone into producing a number of different bio composite materials including:

* Self-reinforced biopolymers with low melting temperatures biopolymers in the matrix and high melting bioploymers in the reinforcement material

* Hybrid composite materials of flax fibres and biopolymers

* Thermoplastic monomer injection flax fibre preforms

The first year of the project was spent learning about the various materials and their properties; this second year has seen partners working on specific materials to give workable results for the industry.

These materials are now being optimised through adaptations, testing and manufacturing procedures.

In August tests were carried out on high and low melt grade bio-polymer fibres, filaments and non woven samples using melt spinning and melt blown processes. Optimised results are emerging but testing is on-going with more results due in the New Year on multi-filament and combination matrix materials.

Early indications demonstrate that in order to optimise the mechanical properties of filaments and non-woven materials, it is both the selection of the polymer reinforcement and the polymer matrix that is important. The adhesion between the reinforcement and material matrix is also recognised as being very important in getting optimal results.

A number of material combinations are looking promising and will be tested for ageing and marine applications.

This work package will be testing the processability of these materials and will be developing prototypes of bio component and bio based multifilaments and spunbond nonwovens using different polymers.
Posted 2020-11-18 15:55:23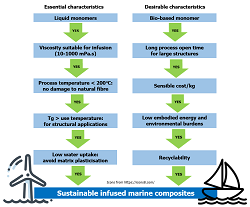 Monomer selection for in situ polymerization infusion
The SeaBioComp project is looking to develop and deliver demonstrators using innovative bio-based thermoplastic composite materials with mechanical properties comparable to conventional oil-based composites.
The durability will be tailored to the specific application (2 to >20 years), recycling potential, reduced CO2 emissions and reduced microplastic and ecotoxic impact in the marine environment.

The University of Plymouth, as part of its role in the project, is investigating to use of manufacture by monomer infusion under flexible tooling (MIFT) with in situ polymerisation to produce natural, or glass, fibre reinforced structural composites.

Following an extensive literature survey, the monomer selection has suggested two potential matrix materials: poly(methyl methacrylate) (PMMA) and poly(L-lactide) (PLA). The selection methodology is described in a paper just published in Polymers.

The full report is available to view at the following link.

https://www.mdpi.com/2073-4360/12/12/2928

and also available to download from the SeaBioComp website at http://www.seabiocomp.eu/downloads/



Posted 2020-11-18 16:27:31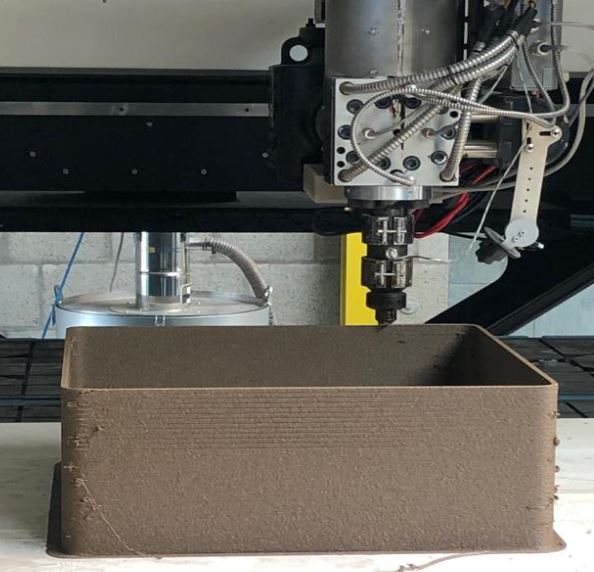 Very promising results from the 3D printing of biopolymers
Work Package 2 of the SeaBioComp project is dedicated to the optimisation of large-scale additive manufacturing for the printing of thermoplastic polymers and has already been fabricating early bio composite end-user demonstration parts.
As part of the SeaBioComp project, a large scale 3D printer that operates using the FDM (Fused Deposition Moulding) technique was installed at Poly Products in order that they could produce a report into the adaptations necessary for the processing of biopolymers in 3D printing. The report is available in the downloads section of the website at http://www.seabiocomp.eu/downloads/

The large scale 3D printer has been proved to be suitable for processing biopolymers and has been working with Observer Participant De Klerk Waterbouw to design, manufacture and test 3D printed biopolymer fenders.

The fender profiles were produced using Thermoplastic Starch (TPS), Poly Lactic Acid (PLA) and natural fibre reinforced TPS.

Early results have been very encouraging and have attracted a lot of media attention as well as interest from a number of end-users of composites. The initial fender design was made at 1:2 scale using starch-based biopolymers.

Testing of the initial 3D printed scaled fender was carried out by the University of Portsmouth and further samples, using an improved design have more recently been tested by De Klerk Waterbouw with promising results. More work is being done to improve the perpendicular strength and other issues to do with heat and surface quality.

A report into the production of the 3D printed biopolymer fender can be downloaded from the website at http://www.seabiocomp.eu/downloads/

Work is now taking place to produce a full scale 2m fender assembly to be installed at the quay at De Klerk Waterbouw which will verify the process and materials being used.


Posted 2020-11-18 17:05:58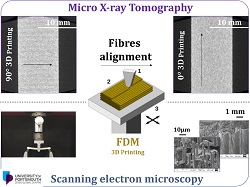 Investigating mechanical, physical and environmental properties of biopolymers and biocomposites
Work Package 3 of the project has been investigating the mechanical, physical and environmental properties of biopolymers and the biocomposite materials produced by other project partners in SeaBioComp using compression moulding and additive manufacturing techniques.
The relationship between different process parameters and material types and the different properties of the 3D printed and compression moulded biocomposites have been evaluated by the University of Portsmouth and French partner Ifremer.

The materials tested include TPS-OPT (Optimized Thermoplastic Starch) which is a biodegradable matrix and PLA (Poly Lactic Acid) which comes from renewable resources and is biodegradable and has high mechanical properties.

These biocomposites have been tested with different reinforcements including carbon and glass fibres as reference materials along with hemp, flax and new core-shell fibres developed for the project.

Quasi-static and dynamic experiments such as tensile, three-point bending and drop weight impact tests were carried out. Moisture absorption behaviour and its influence on various properties was evaluated by immersing the biocomposites in seawater conditions at different temperatures. Density measurement as well as Differential Scanning Calorimetry (DSC) were also undertaken to evaluate the long-term effects of sea water ageing.

In addition, as mechanical and physical properties of biocomposites are correlated to degradation at the fibre/matrix interface, manufacturing defects as well as overall damage mechanisms of the composites were analysed using destructive and non-destructive characterisation techniques. In this regard, cutting edge technology, such as Scanning Electron Microscopy (SEM) and micro x-ray tomography (XCT) was employed, which show visual and numerical information above and beneath probed sample surfaces, determining the origin of critical defects due to manufacturing or developing over the long-term within harsh environments present in the marine environment.

The results from the testing will be fed back into the next phase of the material development for the SeaBioComp project.

Posted 2020-12-07 18:47:16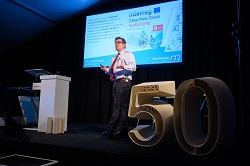 SeaBioComp Masterclass on 3D printing of Biopolymers stimulates lively interaction
2020/21 has required new ways to connect with businesses, stakeholders and interested parties in order to disseminate project results.
In September 2020, Dr Albert ten Busschen, from Poly Products, hosted a very successful online MasterClass titled 'Large-scale 3D printing of Biopolymers'.

The event successfully informed interested parties of the activities of Work Package 2 and all the activities associated with 3D printing of bio-polymers. The event attracted an audience of 14 delegates from a good cross section of industry and research organisations.

SeaBioComp project leader Gertjan Vancollie also presented during the MasterClass, giving an overview of the SeaBioComp project, its aims and ambitions and project findings and research to date.

The MasterClass was obviously of interest to the participants who asked many questions which will prove very valuable to the future research being undertaken by the SeaBioComp project. The event proved to be efficient, lively and interactive despite being held online due to Covid-19.

Presentations from both the presenters can are available to download from the following link: http://www.seabiocomp.eu/downloads/

In addition some useful reports are available to download including the SeaBioComp 3D-printed fender report and the report on the Adaptations needed to print biopolymers on 3D printers.

All downloads are available from: http://www.seabiocomp.eu/downloads/


Posted 2020-09-22 11:04:42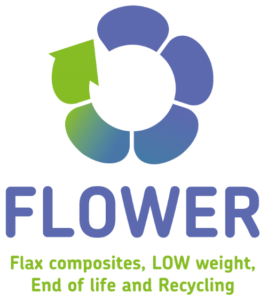 Biobased composites in the Marine Environment, FLOWER Project conference, 22nd-23rd April 2021
The Interreg FLOWER project will be hosting this hybrid conference (onsite and online) on 22nd-23rd April 2021 in Lorient in Brittany, France. The conference will be themed, Biobased Composites in Marine Environment.
Keynote speakers will include: Pr. Jörg Müssig (U. of Bremen), Pr. Aart Van Vuure (KULeuven), Dr. James Blake & Dr. Jeanne Blanchard (U. of Southampton) and Ms. Rachel Moreau (One Step Ahead & Ocean As Common) confirmed their participation and will introduce the 4 sessions.

A number of partners in the SeaBioComp project will be presenting their findings.

During the two days of the conference, the following topics will be discussed:

* Plant fibres and preforms for biobased composite materials: Degradation of plant fibres in the marine or water environment; Hygroscopic behaviour of plant fibres and reinforcements; Influence of the nature and specificity of the plant fibres; Innovative preforms; Ageing of plant fibres and associated reinforcements.

* Matrices and interfaces: Ageing; Durability; Evolution of interfaces; Behaviour and degradation of matrices in immersion, relative humidity or marine environment; Biobased matrices; Behaviour in a marine environment, degradation and biodegradation; Modelling and prediction of service life.

* Biobased composites in the marine environment, in-use properties: Water ageing of biodegradable or biobased composites; Mechanical, vibratory and fatigue behaviour; Extreme stresses; Submerged structures; Biodegradation of parts; Controlled biodegradation; Biobased composite applications for Renewable Marine Energies.

* Deconstruction, end of life, recycling and environmental assessment of biobased composites: Recycling of matrices; Recovery; Deconstruction; Life Cycle Analysis; Eco-design; Recycling or parts at the end of life; Deconstruction / separation of components.

European experts in the various academic communities concerned (mechanics, biology, physics, chemistry) will share their latest advances on the following topics: Plant fibres and preforms for biobased composites materials; Matrices and interfaces; in-use properties in marine environment; Deconstruction, end of life, recycling and environmental assessment.

Registration is now open for this conference at the following link: https://marinebiocomp.sciencesconf.org/

The Biobased Composites in Marine Environment Conference 2021 is organised by the University of South Brittany (IRDL Laboratory) within the framework of the European project FLOWER (Interreg VA France (Channel) England Programme), in partnership with Bretagne Développement Innovation (through the Eurolarge Innovation Programme and European Entreprise Network), Audélor - Lorient Technopôle, Pôle Mer Bretagne Atlantique, Archipel (citizens institute of UBS promoting its maritime and coastal identity) and Pole IAR, The French Bioeconomy Cluster.
Posted 2021-02-08 15:34:17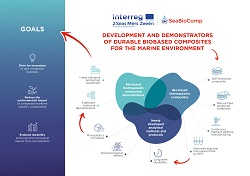 SeaBioComp is co-funded under the EU Interreg 2 Seas Programme
The project will run to February 2023 with an overall budget of Euro4.1M, Euro2.5M of which (60%) is funded from the European Regional Development Fund.


The SeaBioComp project partners include research institutions, university research groups, SMEs and specialist cluster organisations.

To be kept informed of the project results, activities and events please sign up to the Interest Group at:

http://www.seabiocomp.eu/interest_group/

To find out more about the SeaBioComp project download the project leaflet and infographic from the website at:

http://www.seabiocomp.eu/downloads/

Posted 2020-12-14 14:09:58